Here are a few do's and don'ts for this week in the kitchen. In other words things that worked out nicely and others, not so much.  
DO- Find a place for your cookbooks!
…If you don't have extra cabinet space in your kitchen.  I loved this idea from Maillardville Manor, so I improvised and created a cookbook nook above my cabinets.  It's not the most convenient place, but it gets them up off the kitchen floor. Being 5' I'm used to using a stepstool every day anyway, so one extra thing to reach for won't be so bothersome.
DON'T- Buy Cookstock utensils from West Elm!
We bought this spatula with our gift card from West Elm and I used it only twice before it snapped completely at the base this week.  I was only stirring cookie dough, not slicing through rocks.  I actually tried to do a search for this product and couldn't come up with anything, and the spatulas are nowhere to be found on the West Elm website.
DO- Use these cute recipe bookmarks!
            I found these last year sometime at Anthropologie.  They are $10 for a set of 100. There are two to a page and they are perforated along the edges for easy tear out.  I've always used post it notes to mark pages in cookbooks for recipes I want to try or meal planning. These bookmarks are handy ways to mark pages you wish to go back to. I've used the back of them in the past to make notes for the recipe after we've tried it.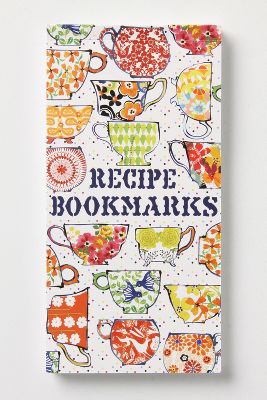 DON'T- Scorch your dinner on the BBQ!
            C cooked Grilled Balsamic-Garlic crusted Pork Tenderloin on the grill on Monday and even though it said 8 minutes per side on medium heat the pork tenderloin turned out like this after only 8 minutes.  We think it was probably the balsamic glaze that did it, but we learned that maybe low heat may be a better option in the future.  C wouldn't eat it but I managed to salvage it by cutting off the outside black charred-ness and took it for lunch the next day.  It was pretty juicy because he seared it prior to flaming it on the BBQ.  A couple nights later we made chicken kabobs and cooked them at low heat for 9 minutes and they turned out perfectly!
DO- Have a glass of Predator Old Vine Zinfandel on a Thursday night
After a long week at work and C out umpiring for the evening, I decided to get started on my Friday activities a little early: balancing the checkbook, laundry, garbage, and tidying up after a week of coming home from work, dropping everything and hittin' the couch. I picked this bottle simply because it had a ladybug on it.  Bug was given to me as a nickname when I was a little girl and the ladybug theme has kind of followed me since.  This is a great wine for about $15 and has flavors and aromas of cherry, vanilla, and smoke.   I know, fancy of me huh?  I came up with that all on my own, because I'm SUCH a wine connoisseur these days.  Predator is so named because they use "natural predation".
Our sustainable viticultural practices ensure the healthy and vitality of the land and produce the finest quality, most flavorful fruit. "Natural Predation" is an eco-friendy strategy to control harmful critters in the vineyards, without the use of synthetic pesticides and herbicides. Ladybugs, a natural insect predator, along with predator mites feed on destructive aphids.  -Predator Wines
DON'T- Let your spice cabinet look like this. 
            I need a solution to this problem. My spice cabinet is overflowing with oils and vinegars, rubs and salts, and spices and baking paraphernalia.  I have no room for the olive oil, flavored vinegars, and Costco size vanilla.  Looks like this will be my next Pinterest adventure.
Well there you have it, my do's and don'ts for the kitchen this week.  What are your do's and don'ts, kitchen or otherwise?