Chris and I came from mothers who dressed us in good quality clothing!   Places like Nordstrom and Stride-Rite.  My mother always brags about how I used to "model" for Nordstrom.  Let's not go overboard, it was really just a 10 minute kids fashion show…in the store…when I was like six.  I, of course, thought I was hot stuff at the time.  I suppose Oscar has a lot to live up to in the fashion department. My aunt and mother are very fashionable women, so it's pretty much a requirement that my child be the same, right?
When we found out we were pregnant it was probably the first time I'd really paid any attention to the cost of baby clothing.  I drooled at the Janie and Jack storefront, grazed my hand across the soft, gorgeous ensembles.  Imagined all the fabulous places my child would go dressed in his stunning attire.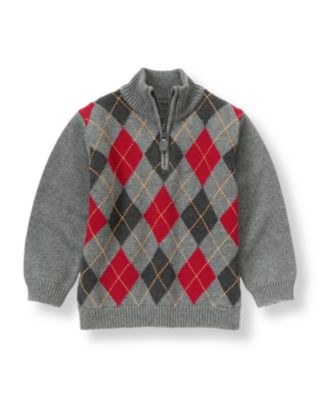 Then I looked at the price tag. $49 for an Argyle Sweater.  Hmmm… For 3 months? When he'll probably spit up on it 2.2 seconds after I put him in it? And would I really going to be going out dressed to the nines, three weeks post-partum?  I make good money, but I couldn't get myself to spend that much on something he'd only be in for a fraction of a year!
My sister-in-law shopped consignment a bunch before and after our niece was born.  Growing up a spoiled only-child, I had preconceived notions that consignment meant hand-me downs, dingy leftovers, and raggedy patched up jeans.  I quickly learned that you can get good quality, hardly worn, really cute suits for babies at both consignment stores and sales.  I totally understand it now! Oscar had the most adorable suit that my mom bought for him before he was born.  Super cute Carter's sweatsuit with a little locomotive on it.  HE WORE IT ONCE!  ONCE! I almost cried the day I couldn't get the little jacket on him.
Carer's Retail-this outfit was probably $23-29.   I'll be selling it for $9.  WHAT A STEAL!!!
On second thought, maybe I'm not ready to part with this yet.  =)
Not to paint a completely rosy picture because there can be some pretty horrendous things at consignment sales.  Things you're not sure should even be allowed on the racks. However, I saw some of the really cute things that my sister in law was able to get for next to nothing.  Onesies for $1.50, pants for $3-4, complete outfits for $10!    Once we found out we were having a boy, Chris and I hit the consignment sales hard.  I thought we might be going a little overboard, but I think we truly used everything we purchased.  For instance, look at these two cute suits we got for him.  I can't remember exactly but I'm pretty sure each were under $12.00.
It's only now that he's 7 months old that we are starting to buy a lot of our items new.  So, we're really looking forward to the big consignment sale next weekend.  We've gone a couple of times. Once was last year after we found out we were having a little boy.  Chris practically begged to come with me, which almost made me hit the floor from surprise.  Turns out he loves shopping for Oscar!  At the Creme Brulee Kids Consignment Sale they give you reusable shopping bags to stuff full of wonderful finds. Stuff we did!  So much, we had to go through it all when we got home to remember what we had bought.  This year I'll be a shopper AND consignor!  The thing I love most about this sale, as opposed to others, is that there is NO admission fee and there is always free parking!  And most of the items are higher end- like Janie and Jack, Gap, Gymboree, and Naartjie, and other wanted high-end brands. They usually have two sales a year, one in the spring and fall.  This particular sale has always been organized, the checkout staff has always been really friendly.
Here are the details:
Creme Brulee Kids Consignment Sale- October 10th-12th
Kent Commons (located near the Regional Justice Center), Kent Washington
Consignor pre-shopping Thursday, October 10th
Open to the Public Friday October 11th 9am-6pm and Saturday October 12th from 9am-4pm.  
Many items are discounted on Saturday! 
Seriously, check it out!!!
http://www.cremebruleekids.blogspot.com  or on Facebook
Don't be thrown by consignment.  It can be totally worth it!  The best part is, a lot of the items we bought used are still in excellent condition and will be passed on to the next excited family!  
Tell me, where are your favorite places for baby bargains, or consignment?