Remembering from my previous post, we recently moved into a tiny apartment from a large condo.  Chris and I had a spacious 5-piece bath.  His and hers sinks, a cabinet each and two drawers each. There was a huge soaking tub and a glass shower.  I had loads of room to sit and do pedicures and wide counter space to do play with makeup for nights out.
Ugh.  It was gorgeous. And I miss it.
This is what we're working with now….
One sink, one teeny tiny drawer each, and one cabinet to share.  Tub/Showed combined- although the shower is bigger which I actually really like compared with our condo.  Organization has proved to be important. Its a constant struggle but we're managing with a few things here and there.
We went from two sinks to one sink with very little cabinet space.  I made the most of our drawers, cabinets and medicine cabinet (not pictured).
This bathroom was long and narrow.  I used our Raskog utility cart for extra towel space and to contain my cleansers and perfumes.
I have a general disdain for particle board etagere's but it seemed necessary for this space. Seemed was the key word- we ended up not really using it.  It was more of a decorative space.  I think I would've rather had a cabinet over, but being an apartment we didn't want to put large screw holes in the wall. As another note, isn't that a swell shower curtain?  We've had this little gem since we moved in together 9 years ago. It was only used in the condo in Oscar's bathroom as decoration, since we had a glass shower door.  I was stupidly excited to be able to use it in this apartment. 
The master bathroom also had a linen closet.  I ended up having to use the space for medicines and general toiletries. I dedicated a shelf with baskets for our first aid, medicines, cold/flu items (necessary because we ended up being sick most of the first 6 months we lived in CO), and essential oils.
In this bathroom my organization go-to's have been
1. 3M Command Strip Hooks–  we've used these for bath towels.  One on the outside of the shower for a quick grab when the shower turns off.  And two in place of a towel bar (because the apartment one fell off and we didn't want to ask maintenance to put it back up) on the opposite wall of the shower.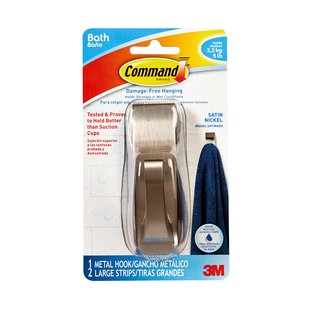 2. IKEA  Raskog Utility cart– I used this to store extra towels, my cleansers and cotton products. As well as my monthly Birchboxes.  =) Find it here
3. IKEA White wall Shelf (can't find the name)- We put this up to get our Sonicares and Chris' trimmer up off the counter. With only one sink and a narrow strip of counter on each side I used vertical space to my advantage.  The apartment provided towel ring is tucked conveniently under the shelf.
4. Container Store Cable Twisters– we used these to wrangle all the cords that were coming off the little shelf.  These worked brilliantly, until of course I had to untwist the whole thing to get one electronic device off the shelf.  =\
5. Container Store MagnaPods-  I used these on the inside of our medicine cabinet.  As a note, I've always had this notion that I hate medicine cabinets. Call me irrational, especially because now that we're in our townhouse that has zero medicine cabinets- I really miss them.  The MagnaPods worked perfectly to hold my go-to makeup items.  Quick grab in the morning made for a stress free getting ready routine.
6. Wire Shelf for under sink and plastic bins-  I used the wire shelves to elevate baskets of bathroom items over each other, using the cupboards vertical space to its full capacity.  Hair products and styling tools went in one basket, makeup items in another.  Barely used items went on the bottom back area.  Chris had a basket he could use for random bathroom things that he has.
6. Hair dryer holder InterDesign Over Cabinet Hair Dryer Holder- really helpful for a quick grab of the hair dryer without having to dig into my hair product basket.
There you have it, except as I'm writing this post it's a little too late. I started this post months ago and since then, we've moved again.  Into a bigger townhouse and I'm re-organizing the master bathroom once again. Much needed space,but I hope you can use some of the ideas in this post to organize a small apartment bathroom.  My biggest pointer, use any space you can and purchase or fabricate organizational items.  It'll make your brain function more efficiently and keep you happier!