We've had our coffee bar for almost four years now. Feels like forever. It has made its way through three different homes and continues to be the mainstay of our mornings!  Turns out you don't need coffee any less when your child is a baby versus a preschooler.   In fact, I probably need it more now!   Take a look at our original here: Good Morning Coffee! Good Morning Diet Coke!
In the townhouse we are in now we have a sweet little morning room.   It reminds me of the Washington townhouse in that I can have my coffee and laptop and look out on our patio on a sunny day.  Right now I can hear the landscapers and the cats are sitting in the windows.  We have breakfasts and dinners here and I do many of my Jamberry live videos from the table.
For my birthday C and my mother-in-law bought me a wine fridge.  Initially I was going to place it in the dining room, next to the china hutch, however it's already too stuffy in there.  Since coffee and wine are my staples (again, don't judge) we decided it might be better in the morning room, next to the coffee bar.   I'm still waiting for glasses to come crashing down after O hucks a ball my direction.  
To complete the wall here- I'd love to get this printed and framed:
Or perhaps this wall hanging: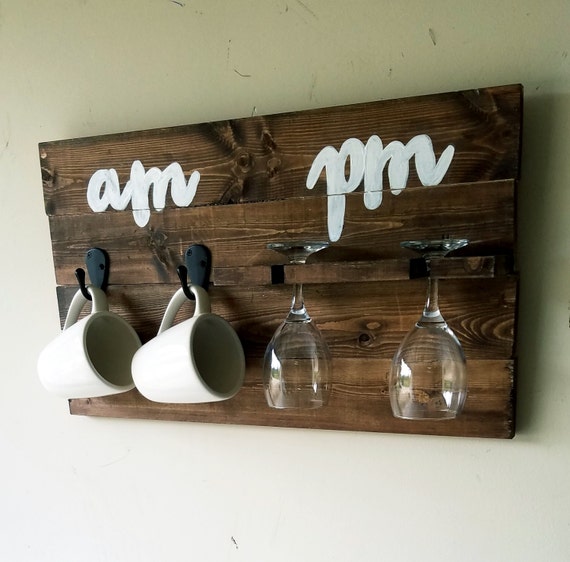 With our first coffee bar I used the towel bar to hold loose leaf tea, but for this "edition" we purchased hanging vases from IKEA and place K CUPS for easy access.  We use both tossable K-cups and reusable K-cups so there is a spot for both.  I also keep our cloth napkins here so they are off the table while we are not eating.  The drawers house all our tea and sweeteners.
I've decked the top of the IKEA Stenstorp out more this time.  The flowers are faux and the little vase is from IKEA also.  It was a 5 minute project that brightens this bar a ton!  Our IngenuiTEA and French Press sit waiting to be used, as well as Nana's mug for when she comes to visit!   Our wedding photo reminds me every day of how grateful I am for C and our little family.
A few years ago I wanted all the mugs to be the exact same on the hooks.  Now, I want them all random.  Mugs that speak to who we are, where we came from, and where we are going.  Ones like "My Brain Has Too Many Tabs Open" and "But first, coffee"
We still use the bottom of the coffee bar for my heavy pans and extra coffee items.  I get bored really easily- just ask C.  We've been in this townhouse for just over a year and a half and I'm already itching to change things about it. (Too bad our landlord doesn't see it the same way). Initially, this was a low cost project, and I'm so glad we've been able to continue to use it. With little changes here and there it's kept functional and curbs my itch to throw it all away and completely re-decorate.
What area in your house is a must-have??